Ibiza has become too expensive, according to some of the world's top DJs.
It has never been considered a cheap place to go on holiday but a few have told Newsbeat that the prices have spoiled the "magic" of the island.
Paul Oakenfold has been going to Ibiza since he was a teenager and said: "I feel like they are ripping us off."
He thinks the clubs are charging too much, that "it just gets more and more expensive" and doesn't need to be.
Afrojack, who is one of the top 10 highest paid DJs in the world, says it has become too VIP.
"I'm playing in Ibiza this year, only because they pay well," he said.
"The whole magic you used to have on Ibiza is not possible any more because a ticket is 75 euros (£60).
"I go to Mykonos, play exactly the same thing and you buy a 10 euro (£7.90) ticket. They are too focused on the VIP."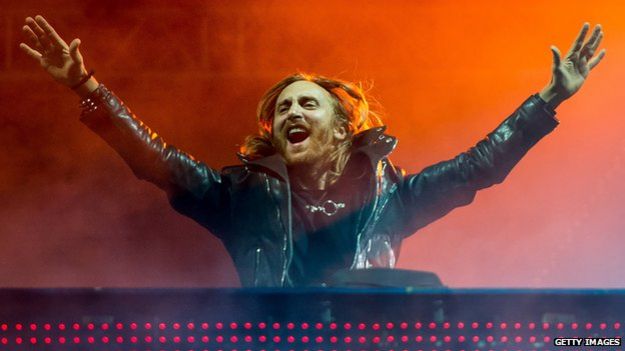 As one third of Swedish House Mafia, Steve Angello brought Electronic Dance Music (EDM) to the mainstream and has been to Ibiza for the last 14 years.
"It was more of a tastemaker, a musical discovery, than it is now," he explained.
"Now it is about selling tickets and big names, it has become what it is everywhere else. The mystique of Ibiza isn't there any more."
The average package holiday, for one week, will cost £500, but it's what you spend when you are there that can sting.
Entry to the top five clubs can cost you up to 70 euros (£55) and drinks can start at 15 euros (£11.90).
Martin Mitchell has been to Ibiza three times and agrees with the DJs.
"It has got more expensive, drink is more expensive, clubs are more expensive, tickets are more expensive," he told Newsbeat.
He says it won't put him off coming back again though.
"I save up," he said. "I go to Ibiza for a week and I just live it up, I don't care how much it costs because it is paradise."
Steve Hulme, who is Pacha's music director, added: " It is as expensive as any other holiday destination that has to make it's money in a small window when the tourists are here.
"There is no real desire from the clubs just to up the charges as much as we can, there's a cost versus income and a basic profit that needs to be made.
"So the ticket prices are not 'Let's charge X amount for X amounts'. Everything is calculated on a needs must, we have major costs of running the businesses we have here."
So why has it become even more expensive than it used to be?
According to Steve Angello, it's a shift in the way the clubs operate.
"Everybody is trying to do the same thing because at the end of the day, everybody is trying to sell tickets," he said.
"Five years ago, you would play Space if you wanted to play techno, you would pick Pacha if you wanted to play house.
"You would go to another venue if you wanted to play something else.
"So what happens is now a DJ gets an offer from five clubs, whereas 10 years ago you would only get offers from one club."
That is because DJs have become the main attraction over the past five years. They are now the rock stars.
Paul Oakenfold admits that has led to their prices going up and we have to pay for it.
"If you go and see Manchester United and it is full of stars, and every season you want your club to buy the best players, then you've got to pay the ticket to go and see them," he said.
Musical director at Pacha, Steve Hulme, agrees and says the DJs now have the power.
He said: "In years gone by, when I first started coming to Ibiza, I'd come to Pacha and not care who was playing.
"Ibiza was like this for years and years and years.
"Then as DJs became pop stars, the whole game changed. The masses wanted to come and they wanted to see a pop star.
"You can't just open the door now with a resident [DJ]. We'd love to but we can't."
How did the DJ become the rock star?
Take a quick look at the Forbes Electronic Cash Kings list and you might be amazed at what you see.
In at number one is Calvin Harris, who they estimate earned £27 million in 2013.
That is more than either Cristiano Ronaldo and Jay Z put in their bank accounts last year.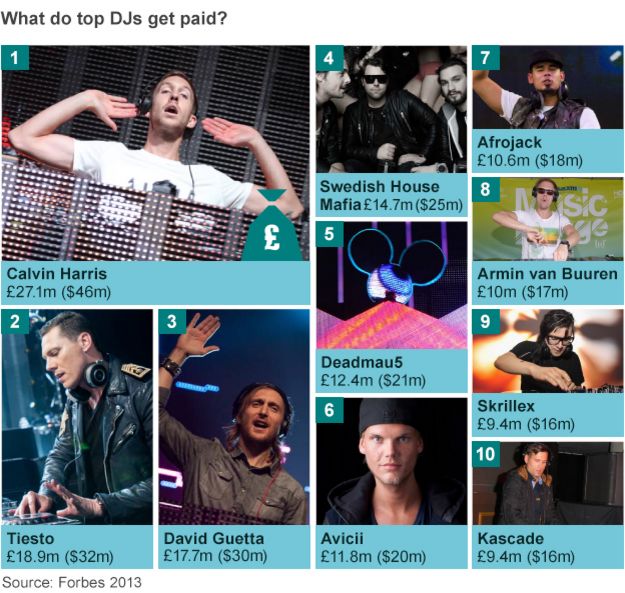 So why has EDM taken off now?
Paul Oakenfold believes it is because the United States has finally got behind the genre of music.
"The big change came when Lady Gaga and the Black Eyed Peas started playing electronic dance music," he said.
"National radio in America suddenly embraced it."
There are others like Dutch duo Bassjackers, who say as punk rock was in the 70s and hip-hop in the 90s, EDM is this generation's music.
"EDM is entering the punk phase," explains Marlon Flohr, one half of Bassjackers.
"The kids just want to jump and rage and it's like big festivals. There's stage diving, crazy stuff going on, it's not grooving any more, it's like straight up raging."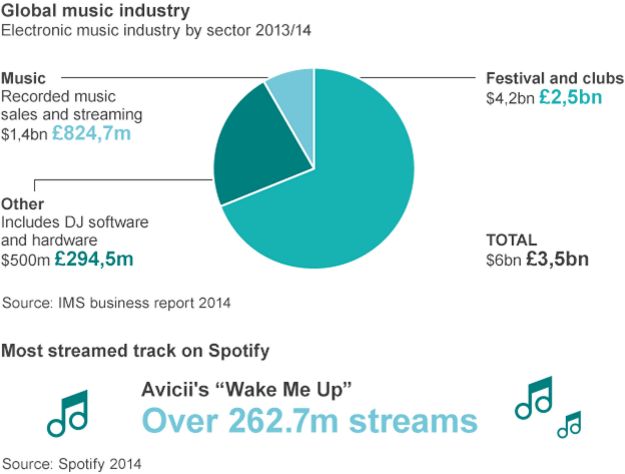 But with the amount of wealth involved and the cyclical nature of music, could the bubble be about to burst for the top flight of EDM?
"Not really in terms of money but in terms of style and sound," said the founder of EDM, Giorgio Moroder.
"My tendency is going back to a little more real drums, bass.
"Especially having the structure of the songs like the old way; intro, verse, chorus. Right now, unfortunately, some of the successful EDM songs are eight bar, eight bar.
"Avicii's Wake Me Up, it's danceable but it's not really EDM," argues Moroder.
Wake Me Up is still the most streamed song on Spotify with 262.7 million streams and counting.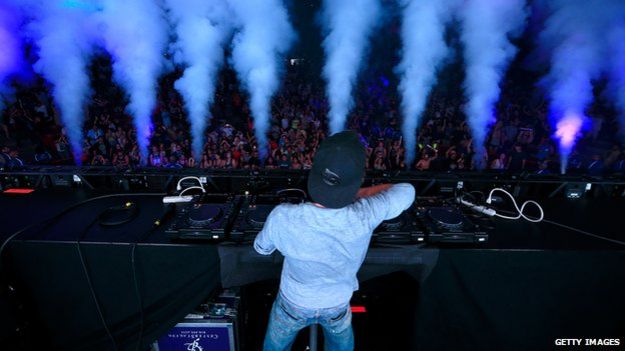 There are those who argue that DJs aren't real musicians.
"I'm sure some people would argue it's just pressing a couple of buttons and it's just putting sounds together," said Jake Bugg.
"I'm sure there's some element of skill, just not musical."
Of the current crop of top EDM artists, even Steve Angello, formerly of Swedish House Mafia, says EDM cannot remain the same.
"It's our musical revolution going on and I think you've just got to be ahead of the game," he explained.
"Try to change, otherwise you'll get really stuck in the old ways of doing stuff and it is something that will destroy the scene."
Source : By Sinead GarvanNewsbeat music reporter in Ibiza